Austin Interior Design Photography Mini-Shoot
An interior designer client of mine recently had me come out to a beautiful west side Austin home and capture a few images of her recent work.
I could tell from the moment I parked that this would be a treat to photograph.  Beautiful oak trees lines the residential road which was full of nicely-kept mid-sized homes with large, green yards.
The bedroom was next, which I lit with several flashes bouncing off the wall to the left, with the lights turned off.  Afterward, I took an exposure with the lamps on which I later hand-blended into the main image, to control the amount of orange color cast they gave off to the rest of the room.
The last thing I photographed was an entryway piece that the interior designer had imported from France for their client (the residents).  Instead of lowering my tripod, I took advantage of a function it has where the legs splay out wide horizontally, creating a very low base.  This was sufficient enough to get low to the ground without comprising the angle.  Hand-held flash was used to fill in the shadows on this dark piece.  The brass in it really pops from the shiny, black surface.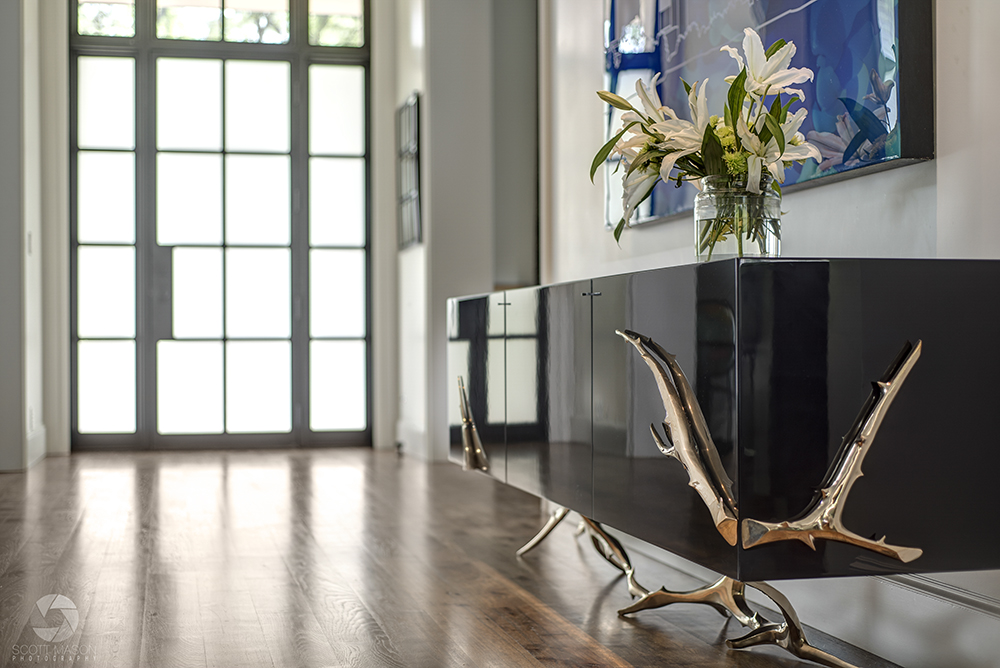 Do you have work you're proud of and need to show it to potential clients?  Contact Me and inquire about a project today.
For my full residential portfolio, please refer to my Residential Page.