Photo Shoot With A Local Lighting Designer – Kelly Francis Illumination
In January I was contacted to do a photo shoot for a local business owner and outdoor lighting designer, Kelly Francis of Kelly Francis Illumination.
 Kelly is the developer of a proprietary outdoor lighting structure called the Firefly.  The Firefly is a unique tubular hanging light that creates a warm, inviting ambiance when hung in multiples or by itself.
We started our photo shoot at the White Hat Airstream Park on South Congress Avenue in central Austin.  The shoot took place at twilight, in order to show the luminescence of the Fireflies but still have a touch of ambient light to fill the scene.  I took several ambient exposures and several flashed exposures to illuminate the trees as well.
A technical issue that one comes across when photographing lighting at twilight is light bloom.
Light bloom is when strong light sources become overexposed and flare up, sometimes causing odd streaks or aberrations to emanate from them.  Light bloom becomes more of an issue with wide angle lenses, which is what I primarily shoot with in scenes like the one above.  To cope with the bloom/blow outs, I took several ambient exposures, including under exposed ones.  The underexposed images were then selectively blended into the final image, which controlled the amount of bloom coming from the lights.
Kelly and I worked together a second time, this time at a residential property.
We arrived about an hour before twilight, to allow me ample time to find the right angle and composition.  Once the sun began to set, I bracketed my images in a similar fashion to last time, and once again added flash with orange light gels to the trees in order to give them a bit of extra glow.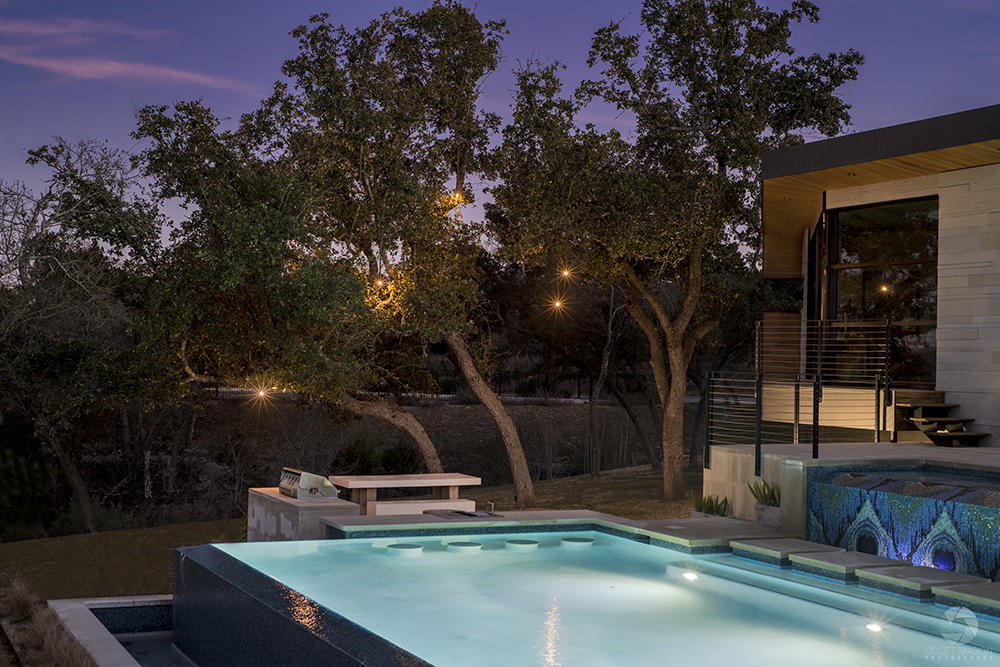 To learn more about photographing in challenging lighting, see our article: 3 Tips For Photographing In Changing Light.