Moody National Bank in Galveston, TX
Early this year I was called to Galveston, Texas to photograph company portraits and architectural images for Moody National Bank. The images were to be used in my client's annual report. This was exciting as even in my fourth year living in the state, I had not yet made it to the Texas coast.
I quickly prepared my overnight arrangements and met the clients on site. First video interviews were done, then came my turn to capture some candid photos of the CEO and another executive of the bank.  A streaklight was set off-camera (left) to bring some vibrancy to the room.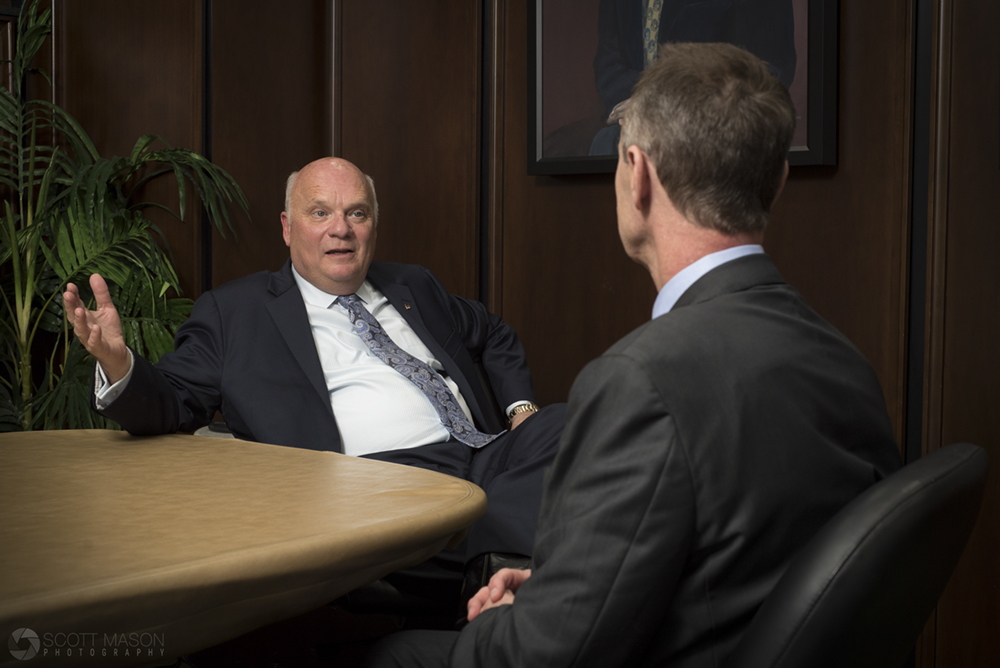 The videographer on site and I asked the CEO about various objects hanging in the room, and our questions were met with enthusiastic recanting of customers and friends who had gifted these items to the bank. This created a perfect opportunity for more natural, candid moments like the one below.  Despite the background, the angle and gesture were too favorable to not include this image.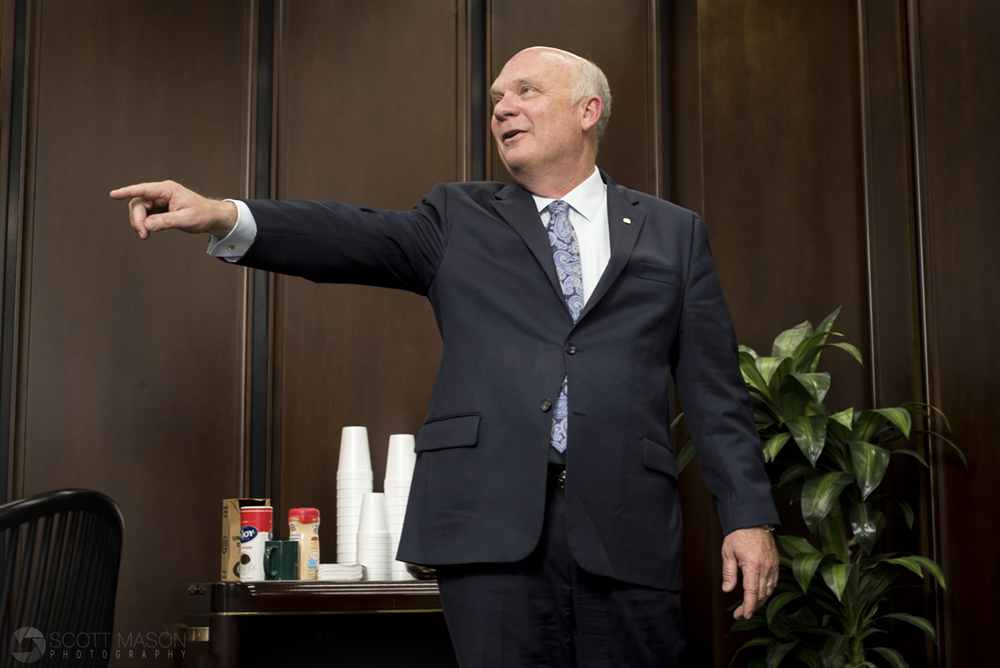 We took the CEO down to the lobby so that I could capture a "power walk" photo, one of my go-tos when photographing executives in their offices. Sometimes it takes a couple tries, as timing the subject passing by the light (off, camera to the right on a stand) can be tricky.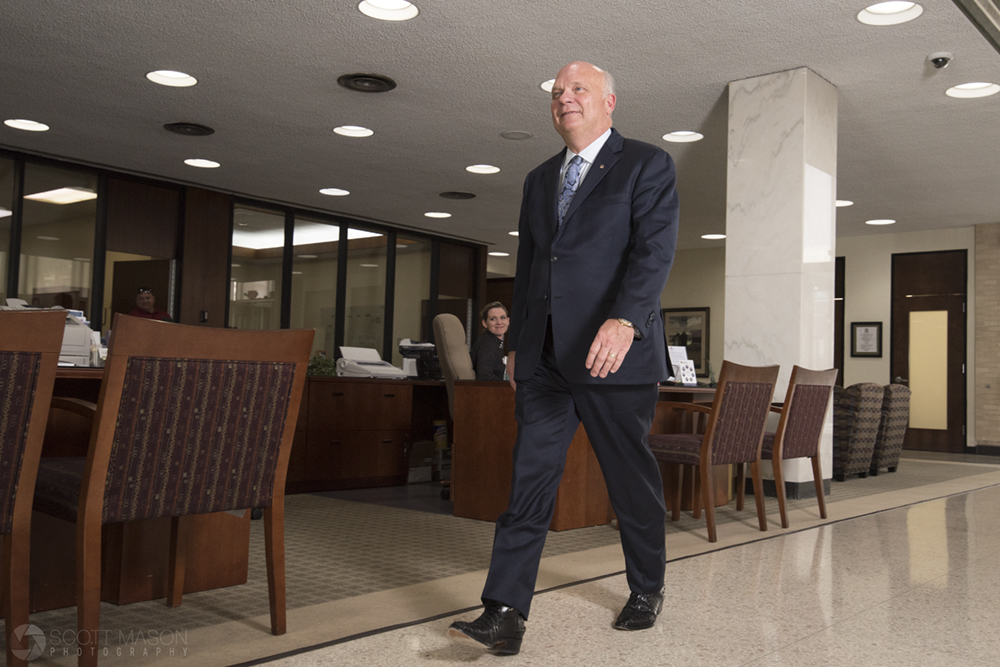 We went into Victor's office so I could get one last portrait of him. The leather sofa proved to be a perfect background, and I made sure his fantastic Texan boots were a main focus of the image. Victor showed me a keepsake baseball bat he kept in his office that had apparently been taken all the way to the shore during a hurricane years ago. Someone in town found the bat and recognized it. Victor was fortunate enough to find it laying on his desk the next day, going through the rubble in the wake of the storm. To this day, he still has no idea who the good samaritan was.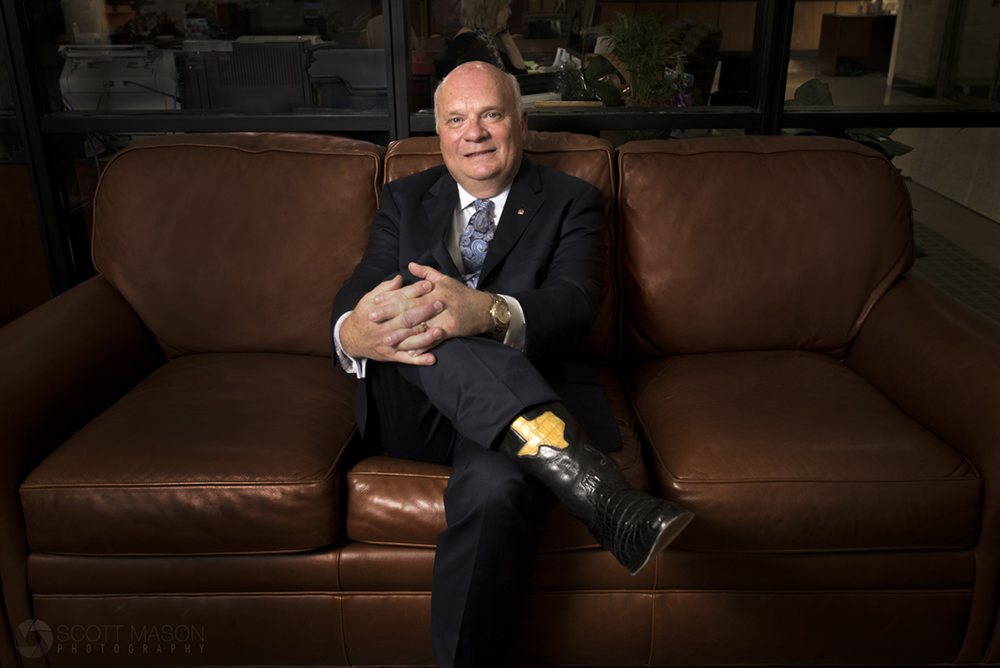 Before grabbing exterior photos, I stopped and asked an employee about the beautiful golden birds installed high up by the vaulted ceiling. The employee explained that a past executive at the bank had ordered them decades ago, which apparently not everyone agreed with at the time. I, for one, appreciated the way the afternoon sunlight dazzled across them but I can imagine that they cost a pretty penny.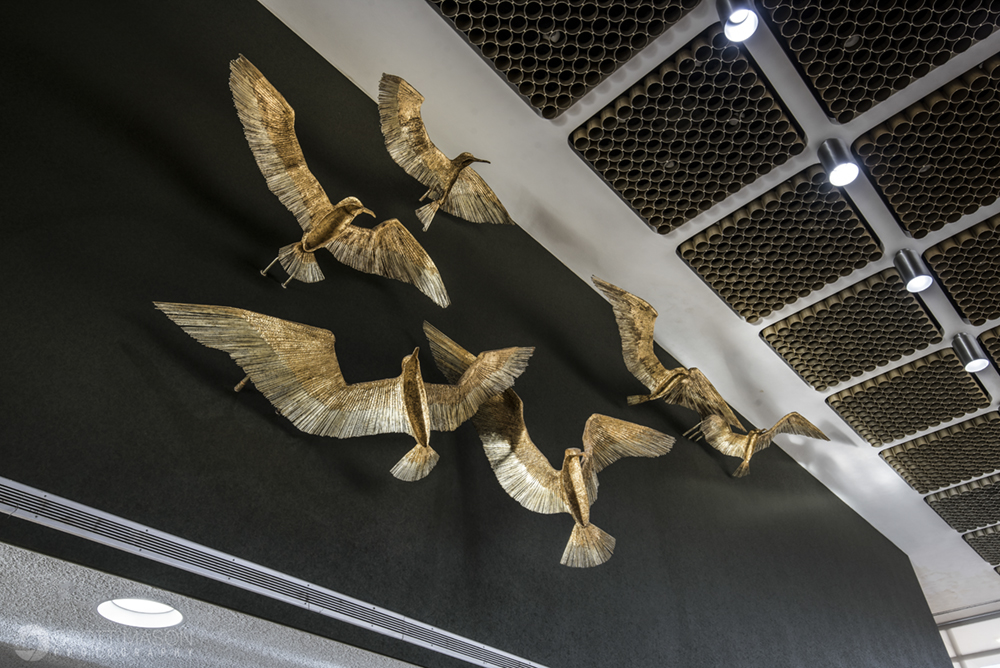 The last image from this shoot I'll share with you is my favorite exterior. Who says you need twilight photos to create a beautiful exterior photo?! Sunset, or even pre-sunset as seen here often creates beautiful light.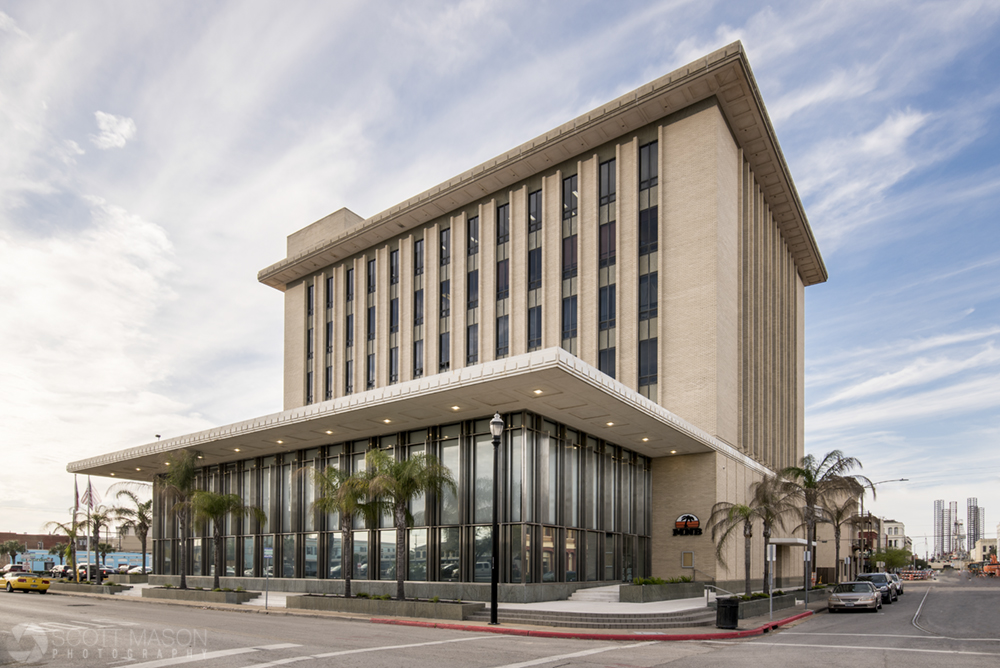 Thank you for your interest in this photo shoot. If you'd like to learn more about our services, you can click here for the about section or here to contact us today.
Other similar works:
Texas Mutual Insurance – Business Portraits