Thumbtack for Pros in 2018 – Instant Match Review
If you're a freelancer or small business owner, you might be familiar with Thumbtack.
Thumbtack is a third-party platform connecting customers and professionals, based around a bidding system. If you're not familiar, you can read my most recent article on the subject:
How Photographers Can Use Thumbtack (The Right Way)
Thumbtack has recently undergone changes in its bidding system, in which professionals only pay when hired by the Thumbtack-referred customer.
The feature at hand kicked in for me (and for many other professionals, I'd guess) when Thumbtack contacted me in late 2017. They proposed a new program called Instant Match, allowing professionals (referred to by them as "Pros") to send out automatic bids to clients any time a request is made, only being charged when actually hired.
I liked where the idea seemed headed, and told Thumbtack that their new Instant Match program seemed promising. Pros waste tons of money on bids that go nowhere, and many of us have even suggested a similar adjustment to Instant Match in the past. These suggestions have shown up in various blog posts and complaint forums. The Instant Match idea on principal makes sense: Pay when you get hired, not for the chance you get hired.
In early 2018, Thumbtack rolled out the Instant Match option on select services.
For instance, of the several sub-categories of photography work I receive requests for (event, portrait, etc), as of now architectural photography is the only category where Instant Match can be turned on and used.
When I quoted on a recent architectural job (the old-fashioned way), I plunked down my hard-earned cash only to see something I had never witnessed before on this platform: Thumbtack had increased the bid limit from five professionals to 15. That's right, 15.
I had no idea that when I was bidding on a job I was going to be up against 14 other professionals. Had I known, I would have not wasted my time or money. When this happened, I called ThumbTack and was told, "We get a lot of feedback from customers, and they all say they want to see more options!"
If a requester complained about not having enough options, chances are they either wanted to see more bids because they knew there were cheap options out there, or their listed budget was so low that nobody wanted to quote in the first place. Either way, studies have shown that presenting too many options to people can be overwhelming and inhibit a purchase altogether.
ThumbTack could now very well be shooting itself in the foot because by barraging a requester with a slew of bids. The customer could be more likely to become overwhelmed and throw in the towel, leaving both the professionals and Thumbtack in the lurch. I'm sure ThumbTack will be watching the new data, and the numbers will tell if Instant Match helps with hire rates or not.
If you understand that cost and competition are the two biggest business challenges, then you understand why this increase in competition is a problem for professionals. I'll get to the cost shortly..
But first, why did ThumbTack make this drastic change?
It's a good bet that ThumbTack increased the maximum bidders per job this to ensure that at least somebody gets hired, ensuring revenue for Thumbtack. Of the 15 quoting on a ThumbTack posting, surely one of the bids would be low enough that the customer would accept it.
New cost for Instant Match
I did some research and learned that ThumbTack is now charging as much as four times or more than their previous prices for winning bids. That part does make some sense: If only one professional is being charged (compared to every bidder in the past) ThumbTack needs to make compensatory charges in order to keep its lights on. One could argue fairness, but the cost for a winning bid still seems unreasonable – I read in a complaint that a Pro was charged $45 for one winning bid.
But the price increase isn't the only issue. The issues are:
A) ThumbTack increased the bid limit (in my opinion) unreasonably to 15.
B) They failed to notify professionals about this change.
C) ThumbTack also removed the "1/5 professionals contacted" widget on the job request screen (see image below) which used to show the maximum number of professionals allowed to quote.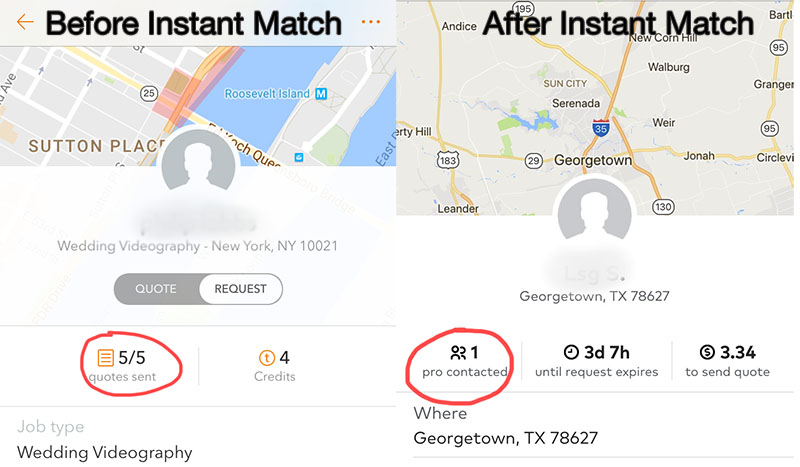 This change seems ambiguous to me. Are they hoping that those who are still paying-per-bid will not become aware of the large pool involved (15 pros)? After all, why would any Pro want to pay for a lead if the chances of a hire were so slim?
As I mentioned before, professionals still have the option to use the old pay-per-quote system, but the stakes are too high to bid outright and the newer option still leaves us with an unacceptably low chance of hire.
Instant Mach leaves professionals with little option for those quote categories in which Instant Match is an option: Either spend your money and have a 6% chance (or less, many customers don't hire on the platform at all) of winning the bid, or turn on Instant Match and join the ranks of mass free-ish bidding on one request in hopes that the customer responds, in which case you will pay roughly 4X the normal bid price. In both cases, you have at best a 1/15 chance of getting hired. Those aren't acceptable odds.
Many Pros have been baffled and offended by ThumbTack's responses to complaints about the update.
Read through sites like pissedconsumer.com and see for yourself. When professionals complain about not getting hired, ThumbTack's canned response is often to lower their bid prices. I've gotten this same suggestion to lower my price straight from the web site as well, in the analytics section. "Not getting hired much? Try lowering your bid amount!"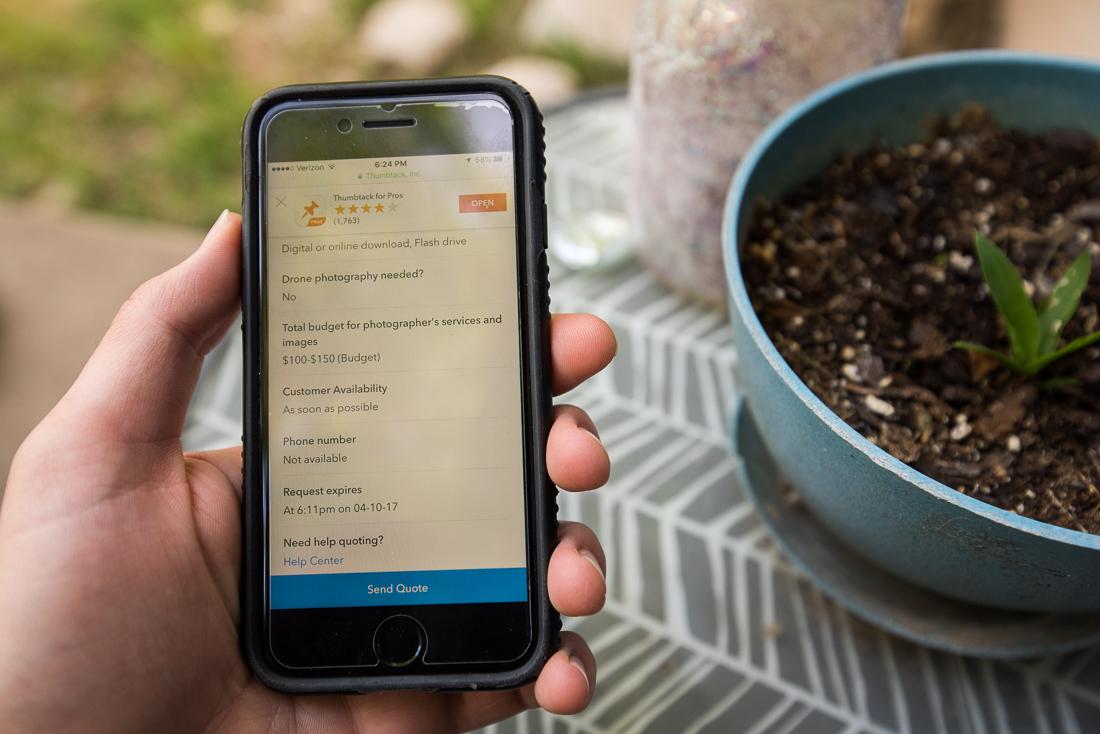 The sad reality is that these days ThumbTack seems to be giving preferential treatment to the job requestors over the Pros.
While the requesters are technically labeled on the platform as "customers," ThumbTack's real customers are the Pros, as that is the sole source of their revenue – Pros bidding on jobs. If ThumbTack wants its business to thrive and not alienate their true client base (Pros), they should create policies and implement new, more sensible features that help professionals, instead of updates that instigate more long odds and lowballing.
Lowball requests have always been an issue on this platform, as with most other similar gig sites.
The new model of Instant Match incites an even faster "race to the bottom" scenario. I know this for a fact because ThumbTack gives professionals anonymous data about the other professionals who are quoting, showing your competitors' response time and prices.
The Instant Match system reminds me of utopian idealism. People want to believe this in a revolutionary, fairness-based system, but its cracks begin showing up quickly. Before long, the truth comes out that the powers that be are still mainly acting in their own self-interest, regardless of what they say to the public.
In all fairness stand by my previous statements in past articles that Thumbtack isn't actually a scam. I'm sure for many, it's still a somewhat reliable system to at least supplement business leads, but I am skeptical about its future at this point. If you want to generate organic leads or lower-cost ones, I suggest either hiring someone to do SEO for you, or learning it yourself.
If Thumbtack or any other Pros would like to respond to this article, I encourage them to do so in the comments section.
Other similar posts:
Here's How Photographers Can Use Thumbtack (The Right Way)
My Experience With Thumbtack Thus Far (As A Photographer)